Constructed of high grade 316 stainless steel, these durable stainless steel fittings provide a simple push-pull method of connecting pneumatic components to each other and system piping. Push-Quick fittings allow full flow through the hose/tubing I.D. with no smaller orifice required as in barb fittings. They are designed for use with both flexible hose and stiff tubing made of nylon, polyurethane, polyethylene or polypropylene. Many styles and sizes are available.
• Offers high corrosion and chemical resistance with approval for use in packaging and food environments
• Ideal for high temperature applications
• Small, compact design
•Working Pressure varies depending on the tubing used but should never exceed 217 psi
• Working temperature: -40 F to 302 F depending on the materials and tube diameters used.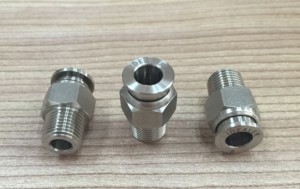 In the following, I will compare with other factory's stainless steel push in fittings to show our advantages: Small one is Ideal Bell, bigger one is from other manufacturer.
Firstly: The material, you can see ours is very smooth, without any burrs or vertical texture.   But others is with obvious burrs and vertical texture.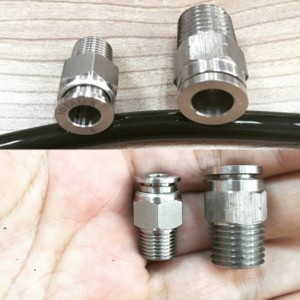 Secondly: Both of those stainless steel fitting griping the tubing by teeth, But you can see our teeth is visible at any point of view, it can grip the tubing tightly, while others' teeth is covered by button, not good!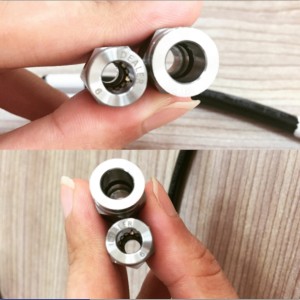 Thirdly: Our Stainless Steel Fitting button never shakes, but others' button is loose and shaking. When relying on tubing, the button lean on one side. See the pics!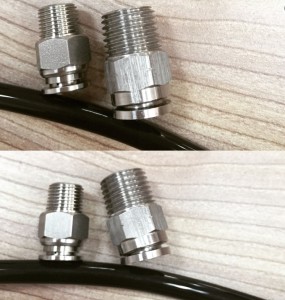 Last, we use imported material Viton seals for our Stainless steel fitting. which can be used under high temperature and drinking water and chemical conditions:
If you want to know more info, pls feel free to contact us: [email protected]!